Stage 5 – I was located about 3 meters before the finish on the riders left. They came through twice which gave me a chance to capture more shots. It was all a bit hectic as they are approaching at 50 – 60 km/h. You can just see me on the very right of the photo below, holding the white Canon 70-200mm zoom (and with the rather noticeable bald spot!). A larger version can be found here.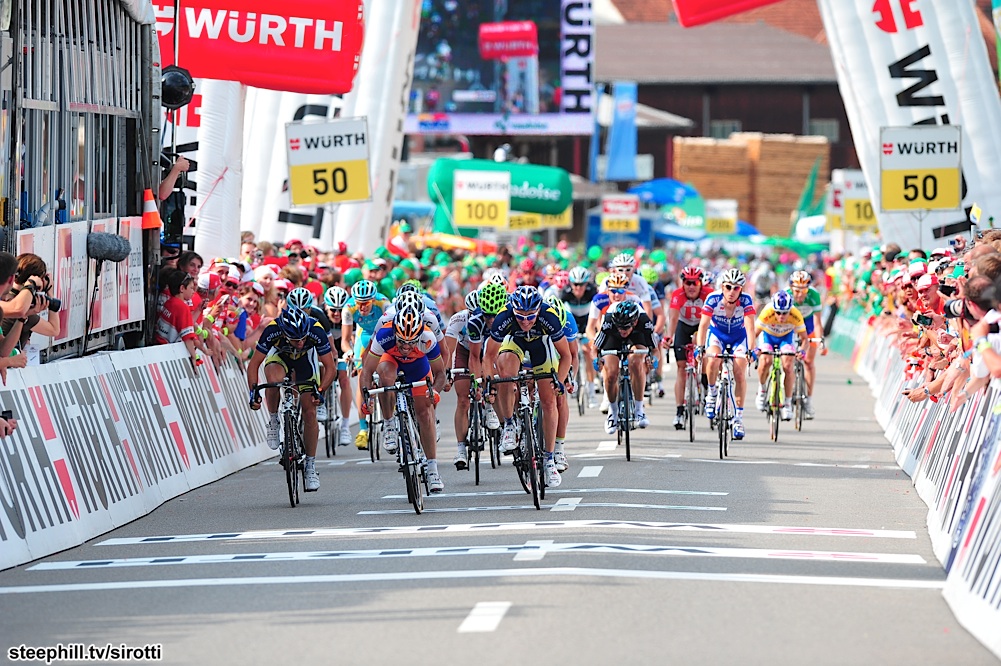 Stage 6 – I had a place in the Team Saxo Bank Sungard support car for the entire race. It was amazing. It took a little experimenting, but eventually I settled on ISO 400, over 1/1000 sec shutters on Tv mode, and centred weight metering with full-blown 45 point AF auto mode, having changed away from spot metering and the manual AF point selection I use for concerts. AF-servo was also a must with the subjects moving so fast… A few times I over-exposured by up to 2/3 stops with a bright sky behind the riders. All shots taken with 1D4 using all three of my main zooms, the 16-35mm getting the bulk of the action from inside the car.
A big 'thanks' to the sports-directors Tristan Hoffman and Fabrizio Guidi for a great day in the car, and also to the Saxo Sungard rider Benjamin Gonzalez who put up with all my questions over dinner the night before!